Fairy tales retold are my favorites. And I started reading the Faraway Collection in Amazon Original for that love. The collection has 5 stories and I already reviewed two of the stories Hazel And Gray and The Princess Game. Now coming to the other stories in the collection.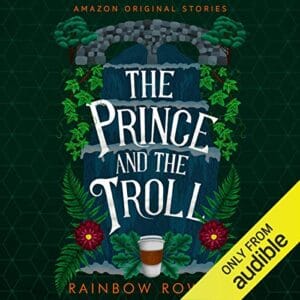 To discuss this book I have to deviate from my usual structure – plot, what I liked, and what could have been better. Because this is one of the stories that I read and was like eh, what just happened? It belongs to the magic realism genre more than fantasy or fairy tales.
In a nutshell, we have a young man with a 'useful' job and a safe residence living on a busy road. One day, when crossing the bridge, he drops his phone, only to find it returned to him by the troll that lives beneath the bridge. They become friends. He delivers her Starbucks coffee every day, and when the river dries out, he begins to see her a bit more each day. He learns more about her a little more each day and falls in love with her a little more each day.
I had to actually go on the internet to understand the story. Though many readers said it was an allegory of humans encroaching the nature(or something like that) and the conversations were metamorphic relaying the eternal human loneliness.  However, for me, the story reads as an extended promotion of Starbucks. Perhaps the book seemed tried too much for its length.
My rating is 2.5🌟
***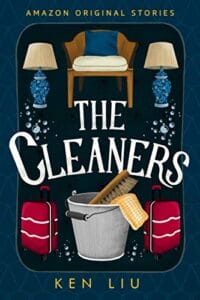 Now they knew that she was a real princess because she had felt the pea right through the twenty mattresses and the twenty eider-down beds. Nobody but a real princess could be as sensitive as that.
Loosely based on the fairy tale The Princess and the Pea, this story also treads heavily on magic realism but the concept of the story was far richer.
The story 
The author imagines a work where our memories permeate into all that we touch and, touching them can bring them back, stark and clear. People have varying levels of sensitivity to these memories. It affects profusely in their identity, the limits of privacy, and their emotions.
Gui, a professional cleaner, lacks sensitivity towards his own and others' memories, making him an excellent cleaner. However, he has no personal history, meaning nothing he touches can bring back his memories.
Clara, the poorer sister of two, works at a factory wiping off phones with memories attached. She is sensitive and after a recent unsuccessful relationship, she tries to clean all her belongings.
Beatrice, Clara's sister, is highly sensitive to memories and builds her career in catching lies. With a single touch, she can delve deep into the other person's history and glean truths they might not want shared.
What I liked
The concept bowled me over. The author creates an unknown world where memory is the driving force. At parts, I was driving parallel from another book that roams around this memory concept – The memory police by Yoko Ogawa
What could have been better
The concept was too beautiful for a short story cum novella format. While I craved for the three interesting characters to come together for an intriguing end the story floundered in the plot development and resolution.
Overall read the story for its unique concept.
My rating is 4🌟
Conclusion
The Faraway Collection has 5 stories in total. I will discuss the fifth book – The Wickeds in another post. Happy reading till then.
–x–
This post is a part of Blogchatter Half Marathon 2023 and #TBRChallenge by Blogchatter