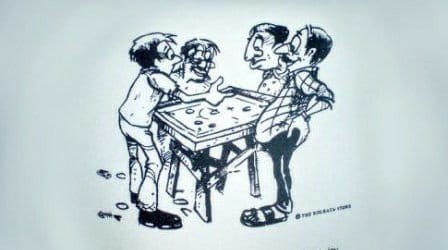 With the ongoing lockdown, the Kolkata police is being extra vigilant to dismiss any gathering on the road. And who is giving them the hardest time of all? The adda thheks. Adda is an essential part and parcel of the Kolkata culture and Bengalis are characterized by Adda. And you cannot change a habit overnight, right? So for my Kolkata chronicles I present you A for Adda.

What is an Adda you asking? Well the Wikipedia defines it as "form of intellectual exchange among members", but, it actually belongs to a much bigger universe. It is an agenda less discussion which are not idle gossip, not debate, not crib sessions, but, all of these and more and can keep the Kolkatans engaged for hours with an occasional supply of 'cha' and 'telebhaja'.
And mind you, one shouldn't confuse it with the Hindi word 'Adda' which is a nest of usually shady people. Neither you can associate it with the elite club culture. Because an adda session has no rules and regulations, no uniforms, no membership plans and no specific meeting places. In Kolkata, adda is a conglomeration of people, irrespective of age, race, caste, gender and economic status, engaged in a timeless banter, on varied places like the chai stalls, the rock , the steps of old buildings, office canteens, tram, bus, or just a carom board centered pavement. In short, any available space.

I had my earliest brush with the word when I was quite young, Kolkata more laid back and bankers had a fixed working hours. My father, another banker, used to return home sharp at 6, have his evening snacks with tea and rush off to his next important duty. The 'addakhana'. There were no exceptions. The routine still continues even after his retirement. And you can imagine his plight currently when his thirty-forty year old habit gets a hit due to a lock down. But, nowadays when I return from a ten hour long office duty and two hours long commute, I can understand how beneficial those one or two hours of unwinding with friends were, that took care of the mental health.

Adda in Kolkata has a long history. It can be traced back to early 19th century at Henry Louis Vivian Derozio's house which gave birth to the Bengal Renaissance. Or we can mention the one at 1, Dumdum Road, where Michael Madhusudan Dutta was challenged and he went on to write the first blank verse in the history of Indian literature. Not to forget the elite sessions at Tagore's house or the much famous Coffee house adda, which went on to become immortal through the famous song. Ask any avid reader of Bengali literature they will vouch for the prominent role that para addas (neighborhood chats) played in a number of books. Ghana Da, Pindi Da and Teni Da – three immemorial characters of Bengali literature – epitomized the idea of adda, which is a quintessential part of the daily life of Kolkata.

The vast majority of current Kolkata addas may have undergone a metamorphosis. They may not invest the time and energy to discuss future citadels but, the conversation topic ranges from the latest sports event to films and serials to politics and general knowledge. The high amount of wisdom that disperse from these intelligent discourse, the world leaders would have really benefitted, if they had only cared to listen.

With the changing scenario, however, the multistoried buildings are replacing older buildings in front of which people congregated for adda, so the idea of 'rocker adda' may be facing a little difficulty at present but, is still going strong at various other places. Because the truth is, you can take adda thheks out of Kolkata but cannot take adda out of Kolkata.

Glossary:
Rock – extension in front of the old buildings
Tele bhaja – fried in oil, pakora kind of
Thhek – address