The second book on my series of reading tales is Fredrik Backman's A Man Called Ove. The life-changing books are those that can make you laugh and cry in equal measure, and this one delivered on both fronts. It is a book that wrapped me in its warmth at the most crucial phase of my life. How this book found me at the right time is a different story altogether which I will share another day. For today let's discuss the curmudgeonly 59-year old widower.
Ove is not exactly the charmer you would expect the main protagonist to be. But, as the story proceeds the crotchety protagonist grows on the reader. The grumpy old man has definite, perhaps rigid beliefs about right and wrong whether it's the proper way to make coffee or the brand of car to drive.
But, the world disappoints him. To quote from the book, "A shed-load of men with elaborate beards, changing jobs and changing wives and changing their car makes. Just like that. Whenever they feel like it."
Then he loses the only buffer between himself and the world, the 'colour' to his 'black and white' life, his wife Sonja. He decides to end his life and goes about it with much planning and precision. Yet, his attempts fail due to a series of comical yet mundane interruptions, which introduce him to the new neighbour Parvaneh, a cat and a few other interesting community members.
The story moves back and forth between Ove's childhood and his present life and we see episodes in Ove's life that have made him what he is. The main theme of the book revolves around how our bitter life can be lead back to a brighter, more connected one through simple human contact and affection. The book is all about human connection, how immigration is not all bad.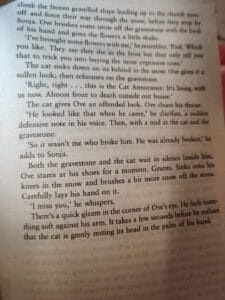 But above all this book is a love story. The love story of the unusual Ove and the wonderful Sonja. At places, it would remind you of the animation movie Up. The book gives serious relationship goals. It was Sonja who pulls the endearing Ove out of the despairs of life which again shatters when she leaves him for the better world. Ove thinks,
"She often said that 'all roads lead to something you were always predestined to do.' And for her, perhaps, it was something.
But for Ove, it was someone."
"…if anyone had asked, he would have told them that he never lived before he met her. And not after either."
'You have to love me twice as much now,' she said.
And then Ove lied to her for the second and last time: he said that he would. Even though he knew it wasn't possible for him to love her any more than he already did.'
The story focuses on the inherent goodness, all the while also managing to be light and humorous. Read this book just to relate to a story about how one person's goodness affects others and busk in one of best love stories.
–X–
I am taking my blog to the next level with Blogchatter's My friend Alexa #MyFriendAlexa.
©Sreeparna Sen
Disclaimer:
Unauthorized use and/or duplication of this material without express and written permission from this site's author and/or owner is strictly prohibited.
Excerpts and links may be used, provided that full and clear credit is given to Sreeparna Sen (Wizardencil) with appropriate and specific direction to the original content