Memoirs are not something that usually excites me. But when I got an opportunity to review the book Indomitable by the former SBI chief Arundhati Bhattacharya I grabbed it immediately.
The first thing that drew my attention was the description on the cover. "A working woman's notes on life, work and leadership." Being a working woman and a mother I know the struggle of work-life balance. And here was this brilliant woman, a champion in her field sharing her experience.
Another point that got me curious was that every year thousands of Probationary Officers join the banking industry with dreams in their eyes. But, only one in a million achieves the height she had reached. I was no different. Having completed my BTech I found myself joining ICICI Bank as a PO ten years back. Currently, I am working in another leading bank as a department head. As a banker, I was interested to know what qualities had set her apart.
At many levels, these words by Arundhati Bhattacharya, a woman in a cut-throat workspace, were personally speaking to me – hailing from a humble background, attending the entrance exam of SBI PO, the quirks in the life of a banker, I could relate all so well.
Read the complete review here.
The review is featured at Women's Web and promote by HarperCollins Publishers India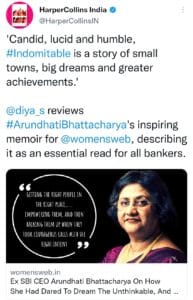 –X–