The last day of the year!
The first thing that struck me when I woke up today was, gosh, how fast the days went. I clearly remember the last day of last year. The quarter end is an important day for us bankers. I was not feeling too well but I dragged myself to the office. By afternoon, I was seething with body pain and high temperature, my mouth tasted like vomit. And soon I was trailing myself back home, as the latest victim of what they called the third wave of Corona.
The first day of the year was busy – spent with doctors, tests, medicine, and pain. That was foreboding enough. As they say, morning shows the day, year 2022 for me saw more misses than hits
There were setbacks on the professional front, which took a toll on my mental health. On the personal front, my husband got transferred to a different city and that created a new set of complications and adjustments on the household front.
But on the threshold of a new year, I want to focus on the beautiful memories that this year gifted me, despite all the odds.
Diary of Sampurno
When I talk about gratitude, the first and foremost thought is of my son Sampurno who is growing up too fast. This year was made extra special by his antics. I may not be able to pen down #DiaryofSampurno regularly but know for sure the stories are now more adventurous.
The soon to be two-and-half year boy is already referring to his old pictures as "baby sampurno" and often starts his conversation as "Ami jokhon chhoto chhilam (when I was a kid)" 😂
Talk about how fast they grow up!
And not to forget we achieved a major milestone when the little one started school this April. His school-going saga should be a separate blog altogether. So sharing a few glimpses of our important day.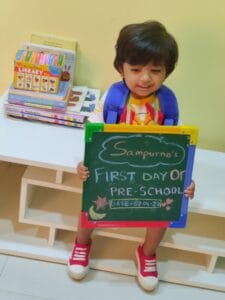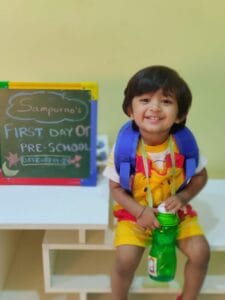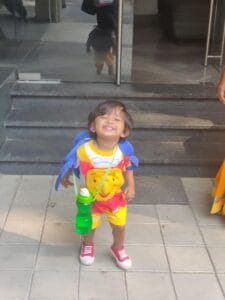 Trips
After a few mundane months, we could successfully execute our first and only trip of the year to a place called Digha. A short, fulfilling trip can rejuvenate the tired mind anyway.
And my sonny boy was so happy to see the sea!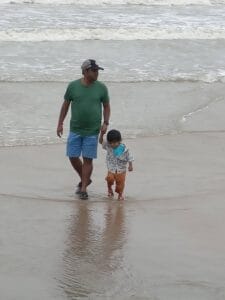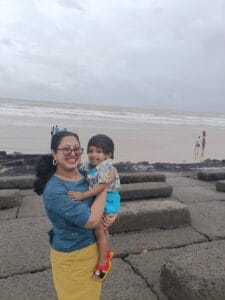 Books and Writing
This year writing inspiration eluded me most of the time. However got to be part of an important discussion meeting of authors, organized by my publisher Ukiyoto. Also, I could race against time to complete the first draft of my novella. Hope the new year gives me the strength to edit and re-edit it.
During the first half of the year, I invested in reading more books but drifted midway. Next year I promise to be more consistent with reading, blogging, and writing.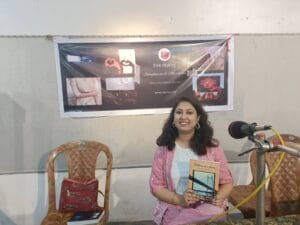 Social Media Detox
I am so proud of myself for having the determination to stay off social media for a few weeks. Initially, I was skeptical of the plan. My husband laughed at me. He was sure I wouldn't sustain a day without posting some crap on social media but I did. An impending exam gave the necessary push. But, the detox was rejuvenating. And I plan to continue it at regular intervals
The surprise dance performance
Like most Bengali families my parents wanted to teach me dancing and singing in my childhood. They enrolled me in classes. Well, it was brave of them to try the music venture considering my cacophonous voice. The dance was a different story. I was keener on the dance project. But then again young days have their challenges. The jazz and the glamour of dance were alluring but the hard work and dedication were not. So the excitement soon fizzled out as the effort had to increase.
Who knew years later I will again give myself a chance to tap my two left feet?
So my two-year-old's school was gearing up for the annual function. And they wanted the mothers to inaugurate the show with some dance performance! My first reaction was, Impossible. But, then I did not know what came over me and I agreed
Am  I glad that I took it up? Got connected to a few brilliant mothers, with the rehearsals almost going back to the house competition days of school. For the last 2 months, we visited our child's school on weekends more diligently than they go on the weekdays.
My son in the meantime was getting ready for his first stage performance. And his confidence grew in me.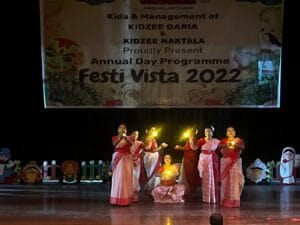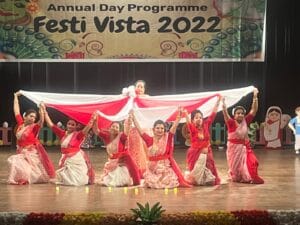 The final show was staged. Not without adventure though. But, that story is for another day. Both the momma and son had their bit of performance. I am proud of my son who jumped and swayed on the stage (and did not cry or run away.). The lights and the audiences were a little intimidating, he took his sweet time to adjust but then he enjoyed it. Just like momma who was nervous yet enjoying.
24.12.2022, Christmas eve ended on a happy note.
Resolutions for Next year
Stay away from toxicity and toxic people
Fight for my rights at both personal and professional levels
Spend more time with the kiddo
Read more books
Be more productive with writing
Plan more trips
Conclusion
So here was my happy recap of the year. Don't forget to tell me how your year was. Wish you all a happy New year! May the new year brings happiness and prosperity to all.
***
This blog post is part of the Let's Say Hello 2023 Blogging Activity hosted by Swarnali Nath