If books are my first love Bollywood movies are a close second. We can hate the industry, and accuse them of nepotism and extravaganza. But, at the end of the day, we crowd the theatres, stay glued to their OTT releases, and get into silly banters, arguing about our favorites.
Today I want to share some of those favourite movies of mine which were a disaster at the box office but will always rule my heart. So, grab some popcorn, and let's jump into the exciting world of these  Bollywood masterpieces.
The first in this series will be my all-time favorite comedy movie Andaz Apna Apna.
Andaz Apna Apna
This movie tanked at the box office! The reason I can never understand fully. One movie that has never failed to lift to spirit.
Released in 1994, this cult classic stars the iconic duo Aamir Khan and Salman Khan, along with an ensemble cast that brings rib-tickling humor to the screen. It gave us iconic characters like crime master Gogo, Robert, Bhalla, and Teja. Paresh Rawal may have done many popular characters but the dialogue "Teja main hu. Mark Idhar hai" is unparalleled.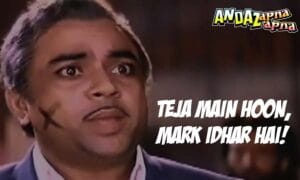 The plot revolves around two young men who compete against each other to woo a wealthy heiress. With its quirky characters, catchy dialogues, and hilarious situations, this film is a sure-fire entertainer that will leave you in splits. The songs are catchy but the film is ruled by its epic dialogues.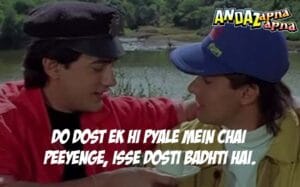 It might be a movie boasting of two Khan superstars but it is Shakti Kapoor as Crime Master Gogo, Viju Khote as Robert and Shehzad Khan as Vinod Bhalla are the legendary characters that elevate this movie to a cult status.
An exhibition of great comedy
One reason I can think of why this movie never worked when it was released is because it was far ahead of its contemporaries. It was an intelligent comedy movie that did not borrow its idea from any Hollywood or Tollywood movie.
One of the best parts of the rom-com is the self-referential gags. For example, there is this one scene where Salman Khan's character is asked if he has seen the movie Sholay.
"Haan, dus baar," he replies, and Aamir Khan jokingly adds, "Iske baap ne likhi hai". This connection is accurate, Salim Khan is the co-writer of Sholay.
Then we had Amar inaugurating the new lock-up, while "Papa Kehte Hain" played in the background. The movie is full of such connections to the film industry and it makes watching more fun, especially for movie buffs like me.
Now I can go on and on about this laughter riot, so why don't you go and watch(or rewatch) for yourself?
Lamhe
"Yeh lamhe, yeh pal hum, barson yad karenge
yeh mausam chale gaye toh, hum fariyaad karenge"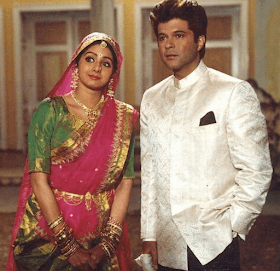 Another movie from the 90s which I heard never worked in box office but is an absolute favourite of mine is the 1991 movie, directed by Yash Chopra, Lamhe.
With its unique plot, beautiful songs, and remarkable performances, "Lamhe" remains a timeless classic. The maverick filmmaker gave cinephiles a love triangle that transcended time and space, a story Indians admired but could not come to terms with.
A story of heartbreak,  loss, and impossible dreams
Lamhe tackles certain taboos in Hindi cinema and transforms them into a timeless love story. It is only plausible because of Sridevi and Yash Chopra. Starring Anil Kapoor alongside Sridevi, the story follows a young woman who falls in love with a man older than herself. The lead actors have many hit movies together. But for me, their chemistry in this one is mature and supersedes all others.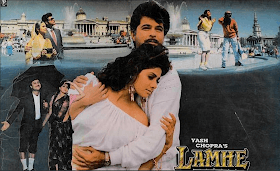 "Lamhe" challenges societal norms and beautifully portrays the enduring nature of love. You desperately want Pooja to have Viren, even if reasoning says he's far too old for her. Also, you are afraid that she might change her mind. Then there is the first half where a youthful Viren falls for an older woman who prefers another to him. This was evidently the first of such attempts in any commercial Hindi movie. A supposed love triangle with a mother and a daughter at two corners was a risky gamble the creators took. And I guess that did not translate well with the audience of that time. But over the years the acceptance grew.
In an age where tastes change at such a breakneck pace that films released even five years ago feel outdated, Lamhe has found that enviable sweet spot. This emotionally gripping film continues to captivate audiences with its melodious soundtrack and powerful storytelling. It has become a classic that grows on you yet never gets old.
Conclusion
Whether you are in the mood for laughter, romance, or sheer entertainment, each of these films offers a unique experience. So, give yourself a cinematic treat and dive into the enchanting world of "Andaz Apna Apna," and "Lamhe" – you won't be disappointed!
-x-
This post is a part of Blogchatter Half Marathon 2023