Have you been one of those girls who dislike smoking, refused alcohol offered at the party, or rejected the casual moves of a lewdly interested guy and jeered as 'Sati-Savitri'?
You are not alone. Welcome to the new world away from the aggressive 'Slut shaming' to the passive-aggressive 'Savitri shaming.'
But a Savitri is not always unwelcome. It is a title conferred to the most chaste of all women. Especially, a "Savitri" is much in demand in the market of marriages, more so in arranged ones. Homely, wearing traditional clothes, and mostly mute. But, since we are a progressive society now we accept 'modern working Savitri' too, one who does a full-time job and takes care of the entire household chores without any participation from her partner.
Savitri has been the epitome of conjugal fidelity in patriarchal Hindu society. Every year women across the country observe a fast in her name for the well-being and long lives of their husbands. In mainstream culture, stories, and movies, a "savitri" always wins over her love and snatches away the "hero" from the shackle of 'unsanskari non-Savitri.'(characterized by western clothes, mostly working in offices, occasionally drinking or smoking – you see antonym of Savitri). The keyword is unconditional devotion for the partner.
But she has been a controversial topic. While the conservatives applaud her as a docile, meek, obedient, and of course virtuous married woman, she is uncool for the faster generation for resonating with the seeds of patriarchy.
Now, who was Savitri?
Savitri is introduced in the epic Mahabharata as Satyavan's beautiful and loyal wife, who was able to revive him after his demise by impressing Yama (the God of Death) with her devotion.
But is that a complete definition of Savitri? Her devotion to her husband, Satyavan is what makes Savitri?
Fortunately, no. Savitri stood for everything which a modern feminist shall strive for – independence, assertiveness, devotion, wisdom, intelligence, and a fighting spirit. As the story of Savitri-Satyavan passed through generations, the patriarchal society conveniently missed that part. While she is a character worthy to be worshiped, the reasons for which she is upheld may not be the entire truth.
So this International Women's Day, I will discuss this extremely intelligent woman character from mythology who gets the better of the powerful, unmovable god of Death through sheer determination and the gift of gab.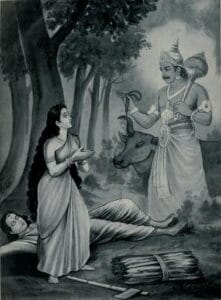 The story
Savitri was born to the royal couple of Madra, King Aswapati, and her wife Kaushalya as a blessing of Devi Savitri. She was named after the Goddess hence. As she grew up, her celestial aura made it impossible to find a suitable match for her. So with the permission of her father, she set out to find her mate. She was independent to make her own decision about her husband. Unthinkable, isn't it?
And she was smitten after meeting Satyavan, the banished prince, living a modest exile life. What prompted a wise princess to fall head over heels for him after rejecting every other suitor might be a mystery. But then who has understood the law of love anyways?
Once Savitri decided, she shares her decision with her father. Sage Narada who happened to be present at the King's court at that time however points out that though he endorses Savitri's choice, Satyavan is prophesied to die within another year. This makes the father apprehensive, but the daughter stays confident. She proclaims death is a game of destiny and sticks to her choice. My life, my choice. Isn't that the preaching of feminism?
Her assertiveness wins over her father and she weds her love. Once married, she takes up the duty of the new household without any complaint. Leaving her princess privilege she accepts the hardship of life. Because that is what a strong woman does, do her duty with respect. In her tryst with destiny time and again she demonstrates her self-confidence and never-say-die attitude.
Fate, death, and survival
After a blissful year, the dreaded day arrives and Satyavan breathes his last in Savitri's embrace. God of death, Yama arrives to do his duty and faces the determined Savitri, a fearless wife ready to challenge destiny.
She stands strong, doesn't beg or put up a futile fight but, refuses to leave her husband and follows him into realms of the dead. Her argument about the virtues of obedience to dharma and then, the company of good people wins even the fearful God of death. Her wisdom impressed him and each time she defeats him with one of her arguments, Yama offers her a boon — any boon except the return of her husband's life.
The intelligent woman firsts ask restoration of her blind father-in-law's sight, then she asks the for returning the Kingdom of the exiled king. And finally, she asks Yama that she be the mother of a hundred sons. Bound by his promise Yama had to grant her all the boons but was trapped with the last wish which was impossible with Satyavan's death. Yama was at last compelled to return Satya van's life and Savitri won back her husband.
Savitri A Feminist Epic
Savitri plays a pivotal role in breaking the conventional trends of contemporary society and literature where male characters dominate the domain. She does not need a hero to save her, rather her unassuming wit and fervor win the day.
It was her iron will and extraordinary intellect that Yama had honored. Over the centuries the men wanted us to forget that part of the story. They played an image of an obedient, devoted wife to portray this unusual woman.
If we look at the story closely we understand how she rises above that narrow viewpoint. She was a true feminist icon who learned to face destiny heads on.
Sri Aurobindo's magnum opus titled 'Savitri- a Legend and a Symbol' celebrates that bravery.
She is the one who strives to bring happiness to the world and does not believe in escapism. Savitri did not only change her own destiny but the destiny of her husband, her father-in-law, and probably crores of women who admire her.
As a true feminist, she teaches one to make a choice and remain assertive about it. Her humbleness and calm demeanor won over the most fearful being, the Death and she turned stars in her favor with her knowledge and wisdom. It is time we learn to see her as the woman icon who broke many stereotypes and not stereotype as the devotional tool,  the popular culture, the patriarchal society try to present her as.
-X-
This blog post is a part of the Women's Day Blog Hop, themed on She: A Tribute to Her, hosted by Swarnali Nath.
P.S. This post is part of Blogchatter's CauseAChatter