Our eyes are the window to this world; we see and experience the world with the help of this tool. Keeping them free from diseases and problems is very important. But, more than often we tend to ignore eye care. Or perhaps try to postpone a long-pending eye treatment due to fear of the cost involved. Modern eye treatments and diagnostic tests perfectly protect our eyes and vision from critical eye diseases and conditions. However, the availability of the best eye treatment in India is not always easily accessible for the lack of proper infrastructure and prohibitively expensive costs. And that's where one can rely safely on The Retina Centre.
The Retina Centre, Guwahati, is a multispecialty eye hospital with a team of experienced doctors, cutting-edge diagnostic and treatment infrastructure and a reputation of affordable modern treatment facilities. Eminent ophthalmologist Dr S. U. Ahmed founded The Retina Centre in 2019, with the motto of "providing quality eye care services of international standards at an affordable cost" to people residing, even in the hard-to-reach corners of North-East India. This region has long suffered the lack of infrastructure for quality and affordable eye care. The Retina Centre thus started its services from that region. Presently, with its strong roots in the North-East states, they are also extending the facilities and services to parts of West Bengal and Bihar.
About the Founder
Having served in the Indian Army himself, Dr Ahmed was deeply inspired by Dr Hilton, an ex-US Army veteran, who is considered the father of Pneumoretinopexy and a renowned Retinologist. Dr Ahmed sought to seek training himself. He specialized as a Vireo-retinal Surgeon from Sankara Nethralaya, Chennai, and worked towards his motto to serve the people of his home turf, the North-Eastern states.
Dr Ahmed has actively participated in numerous government and non-government initiatives throughout his decades-long career to promote the importance of eye care across regions in Northeast Indian states. Following his inspiration, The Retina Centre conducts charitable and low-cost treatments in regular intervals.
Media Coverage
Their good job is being acknowledged everywhere. Various media and news houses are covering their good deeds like The Assam Rising, The Meghalaya Guardian and many more.
You can follow them at https://www.theretinacentre.com/media/
Recently World CSR Day has awarded Mr Farhad Ahmed, CEO of The Retina Centre, as Business Leader of the Year in its 19th Global Edition and 4th Indian Edition. It is a brand excellence recognition for one of the best tertiary eye-care hospitals in Northeast India, The Retina Centre (TRC).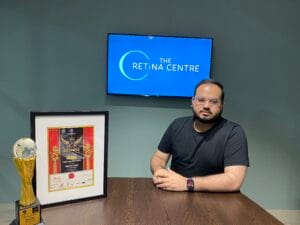 Treatments available
The Retina Centre provides eye care treatments ranging from routine eye tests to treatment of the most complex vision and eye-related problems throughout the patient journey. The doctors are extensively trained in sub-specialities like Retina, Cornea, Phacoemulsification, Glaucoma and other Ocular Diseases.
Early diagnosis of an eye condition can help contain further decay in the eyes' health, improve vision, and cure most eye diseases. The treatment might involve simple medication, non-invasive and invasive procedures.
With modern innovations in medical science and technology, precision surgical procedures for eye diseases have become more accessible and affordable for ordinary people in India. At The Retina Centre (TRC), they treat acute and complex eye diseases and disorders every day using modern diagnostic, investigative infrastructure and expert doctors; at price points that the masses can afford.
For further information, you can visit their website and check the other contact details given below.
Contact details
5th and 6th Floor, Subham Bijay Crescent,
6th Mile, Rukmini Gaon,
GS Road, Guwahati-781022, Assam
+919821465665
www.theretinacentre.com
-X-
I am taking my blog to the next level with Blogchatter's My friend Alexa
©Sreeparna Sen
Disclaimer:
Unauthorized use and/or duplication of this material without express and written permission from this site's author and/or owner is strictly prohibited.
Excerpts and links may be used, provided that full and clear credit is given to Sreeparna Sen (Wizardencil) with appropriate and specific direction to the original content.