I wonder are we born as readers or do we acquire the taste of reading as we grow? I love reading and when Sampurno was born, I wanted him to be an avid reader as well, so, I began my son's reading journey at a precocious 4 months old, much to the ridicule of others at home. Not, that I expected him to sit with me and read along. But, it is one of the most enjoyable activities we have done together while spending quality time.
So today I am going to share our reading experience of different books in the past few months.
A word of caution, as the kids grow up and start moving, they are very easily distracted and wouldn't let read even a single page. My son also started ripping off the flaps of various books. But, we are holding our patience and waiting for him to pass this book-eating phase for serious reading sessions.
1. The Very Hungry Caterpillar
This classic by Eric Carle has been our favourite for months. One book to teach counting, colours, fruits, seven days in a week. Not just that, but healthy vs. unhealthy food, the lifecycle of a butterfly and most importantly, self-care. This all-time classic book is a must-have for all toddlers. Another fun activity for babies is to put their fingers in the hole(s) on each page where the caterpillar ate all the food. Well, this was the first book in my son's library and the inexperienced momma made a boo-boo. Instead of a board book, she bought a paperback one and the fun activity stretched a bit with now bits and pieces of the book missing. Planning to buy the board book soon.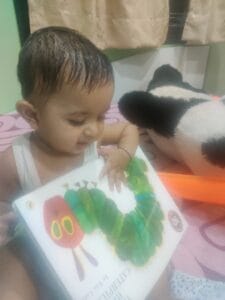 2. Good Night Moon by Margaret Wise Brown
Another classic in the list. This dear little bedtime story is the first book any parent would recommend. But, somehow my little one was not impressed by it. Don't know the reason, but this book isn't much to his liking. Whereas his cousin of 3 years old absolutely loved it. So now the book is staying with the one who admires it. Hoping someday my son would also go back to it and love it.
3. Dear Zoo by Rod Campbell
The first book my son started interacting with. In this book, we write to the zoo to send us a pet, but every time the zoo misses by sending us a pet either too big, too tall or too fierce. In the end, it hits the bull's eye with the best pet. This perfect flap book raises anticipation and then satisfies it when the flap is lifted. This in my opinion is a must buy. But, beware the flaps may be torn after some over-zealous would-be pet owner tugs it too much. Currently, our fierce lion is roaming freely without a flap cover.
4. Where is Baby's belly button by Karen Katz
Another flap book. This one is for introducing babies to their own bodies in a fun way. And believe me, it works. These days if my one-year-old is asked where is his belly, he pulls up his shirt to show, just like the book.
5. Curious George Pat a cake
This puppet book is hands down Sampurno's favourite. It comes with the cuddly puppet whom you can make clap and sing along. It gave a good sensory feel too, along with a catchy poem.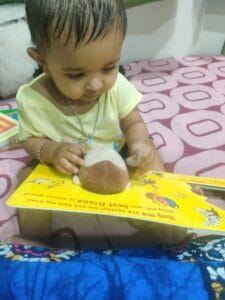 6. Brown Bear, Brown Bear what do you See
Another amazing book by Eric Carle with big engaging pics of animals which are spanning across pages. This is our new favourite, especially during the fussy eating days. The book captures the rapt attention of the child and is super cute.
7. My first library
A gift from a dear friend, these small board books introduce kids to various objects, animals, numbers, shapes and fruits, vegetables. The size made them easy to handle and Sampurno usually keeps playing with them, occasionally flipping through pages. The right time to use these books is yet to come but, for now, it is a good, sturdy book for time pass.
8. Peppa Pig: Happy Birthday! (Sound Book)
Our first sound book is a story about Mummy Pig's birthday! It plays 'Happy Birthday,' when you press a button and it also contains candles that 'light up. The funnier part, the candles can be blown out, again and again. Got it on our first birthday, so not been used for long.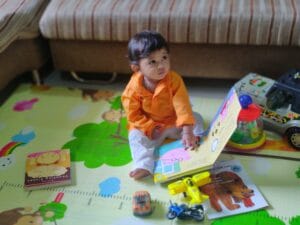 These are some of the books we enjoyed. There are a few which momma bought with much eagerness, but turned out tepid. But, she knows there will be misses. The reading journey must go on.
Note:  This post is a part of Blogchatter Half Marathon – August