Author Name – Sreeparna Sen
Book Name – Airavata
Story Title – When An Elephant Comes to School
Author Introduction –
I am a Computer Engineer, working in a Bank and find solace in writing.
I have authored the book Tales of Wizardencil and am a part of more than 10 anthologies including an international project Until Dawn. To name a few other published anthologies are Hawk's Nest, Macabre Tales, Blood Runs Cold, Route 13 – Highway to Hell, Love in Trying Times, Airavata and Sharing Lipstick. My blogs have been featured in pages like Momspresso, Women's Web and Mom Store.
Recently Ukiyoto Publishing published my first non-fiction book Tilottama At A Glance about the city of joy, Kolkata.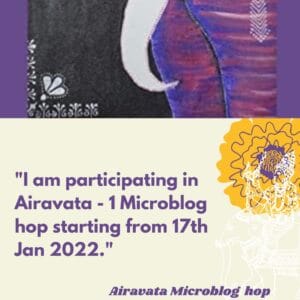 My Experience With Airavata
In my not-so-long author experience, I have tried to write for various genres. Horror, Thriller, Social Issues. But children fiction is one I had always stayed away from. My perspective changed when my son Sampurno arrived in my life. I started experiencing the world through his views and the infinite world of innocence beckoned. To capture our funny moments together I started journaling #DiaryofSampurno.
Just when I was toying around the idea to write a short story for children a lovely opportunity arrived from Meera V Barath and Pachyderm Tales. A book for the children written by adults and children about one of their favourite animals – the elephant.
Well, I must admit the mighty elephants impress the adult in me too. So out came the pen and flowed the story of a kind, gentle young elephant Jerry who visits the school in the city for the first time. He met bullies, made friends and created wonderful memories. So read what happens "When An Elephant Comes to School" in the wonderful collection of elephant stories.
Who is this book for?
It is a book for children and adults who are still children at heart.
Buy your copy of the Airavata book here
"This blog post is part of the Airavata1microbloghop hosted by Meera V Barath"
#AiravataAnthology #Airavata1microbloghop #StoriesWithMayakatha #PachydermTales #UkiyotoPublishers